The main project objective is substitution of natural gas fired thermal generating installations (steam boilers) by wood-fired boiler Vyncke. Thermal energy will be produced utilizing own wastes of the plant and will be consumed for technological needs of the plant.
Core business of the Plant is wet production of fiberboards and veneer production. The enterprise is the leading company in wet fiberboard production in Ukraine. "Uniplit" produce 18 mill m2 of fiberboard per year, which makes up 55 % of total Ukrainian fiberboard production.
Shifting from natural gas to waste wood fuel will result in reducing GHG emissions and increasing enterprise's energy supply efficiency and safety. Installation of new equipment will increase efficiency and help to reduce prime cost of produced fiberboard. Thermal energy (steam of required parameters) will be consumed for technological needs of the plant.
Total estimated GHG emission reduction over 2008-2012 — 175 881 tonnes of CO2equivalent.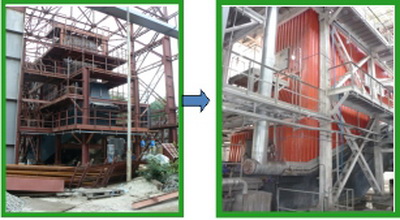 Reduction of CO2e by JI project takes place due to the following measures:
1. Total replacement of natural gas combustion by biomass (waste wood) combustion.
2. No waste wood will be disposed at the landfill. All amount of waste wood generated will be burned at two wood fired boilers.
Technical characteristics of the project:
| | |
| --- | --- |
| Fuel type: | wood-processing waste |
| Fuel consumption: | 40 000 t/year |
| Boiler efficiency: | 88 % |
| Total heat output: | 13,3 MВт*ч |
| Total steam pressure: | 18 t/h |
| Max steam pressure: | 22 bar |
| Max steam temperature: | 260 0C |
| Nominal operating hours: | 8000/year |